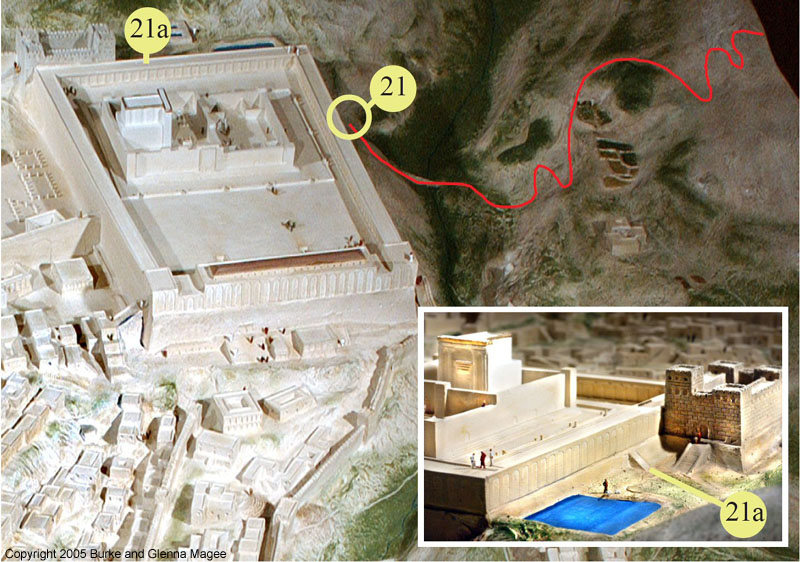 21 Triumphal Entry into Jerusalem
Yeshua's triumphal entry into Jerusalem during the Feast of Passover is recorded in Luke 19:35-38. His
triumphal entry was prophesied in Psalm 118 and Zechariah 9:9. Part of the observance of the Feast of Passover was the reciting of the Hallel (Psalm 118). The words of Psalm 118 were shouted by the people as Yeshua entered the gates of Jerusalem seated on a
colt, the foal of a donkey, as was prophesied in Zechariah 9:9.
Prophecy - The Coming Messiah
"Rejoice greatly, O daughter of Zion; shout, O daughter of Jerusalem: behold, thy King cometh unto thee: he is just, and having salvation; lowly, and riding upon an ass, and upon a colt the foal of an ass."
- Zechariah 9:9
Fulfillment
"And they brought him to Jesus: and they cast their garments upon the colt, and they set Jesus thereon. And as he went, they spread
their clothes in the way. And when he was come nigh, even now at the descent of the mount of Olives, the whole multitude of the
disciples began to rejoice and praise God with a loud voice for all the mighty works that they had seen; Saying, Blessed be the King that cometh in the name of the Lord: peace in heaven, and glory in the highest." - Luke 19:35-38.
Prophecy - The Return of Yeshua
The Beautiful Gate, also known as the Golden Gate, is located in the east wall of Jerusalem. It was open at the time of Yeshua's triumphal entry into Jerusalem. The gate Yeshua went through was destroyed in 70 A.D. The rebuilt gate was sealed by the Muslim conquerors in 1530 A.D. Ezekiel prophesied the closure of this gate around 600 B.C. and that the Prince (Messiah) will enter the gate in the future:
"Then he brought me back the way of the gate of the outward sanctuary which looketh toward the east; and it was shut. Then said the LORD unto me; This gate shall be shut, it shall not be opened, and no man shall enter in by it; because the LORD, the God of Israel, hath entered in by it, therefore it shall be shut. It is for the prince; the prince, he shall sit in it to eat bread before the LORD; he shall enter by the way of the porch of that gate, and shall go out by the way of the same." - Ezekiel 44:1-3.
Recently another gate has been discovered directly beneath the Beautiful Gate. This may be the gate referred to in Scripture.
21a Alternate Triumphal Entry Gate
Yeshua may have entered Jerusalem by the Sheep Gate north of the Temple complex. This would be consistent with His role as the Lamb of God, since it was through this gate that the sacrificial lambs were brought into the Temple.