Eyewitness Accounts Attest to Resurrection
Multiple eyewitness accounts do not guarantee reliability, but they do add extremely powerful evidence for the resurrection of Jesus. Indeed, it would be unreasonable to conclude that hundreds of eyewitnesses to Jesus' appearances during the forty day period following His resurrection were lying or were all experiencing the same illusion.
Mary Magdalene, Mary the mother of James and Salome Witness the Empty Tomb
When the Sabbath was over, Mary Magdalene, Mary the mother of James, and Salome bought spices so that they might go to anoint Jesus' body. ...As they entered the tomb, they saw a young man dressed in a white robe sitting on the right side, and they were alarmed. "Don't be alarmed," he said. "You are looking for Jesus the Nazarene, who was crucified. He has risen! He is not here. See the place where they laid him." -- Mark 16:1-6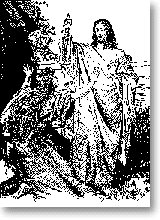 "When Jesus rose early on the first day of the week, he appeared first to Mary Magdalene, out of whom he had driven seven demons." - Mark 16:9
Guards Witness the Opening of the Tomb by an Angel
Matthew 28:1-6 clearly states that the guards witnessed the rolling back of the stone, were frightened and became like dead men.
After the Sabbath, at dawn on the first day of the week, Mary Magdalene and the other Mary went to look at the tomb. There was a violent earthquake, for an angel of the Lord came down from heaven and, going to the tomb, rolled back the stone and sat on it. His appearance was like lightning, and his clothes were white as snow. The guards were so afraid of him that they shook and became like dead men. The angel said to the women, "Do not be afraid, for I know that you are looking for Jesus, who was crucified. He is not here; he has risen, just as he said. Come and see the place where he lay. Matthew 28:1-6
The Jewish priests had a problem. The Roman guards had witnessed the angel roll back the stone and had seen the empty tomb. If word were to spread of this event, the Jewish power structure might fall. To correct this problem, the Jewish authorities (chief priests) bribed the Roman guards to circulate a false story to explain the empty tomb of Jesus.
While the women were on their way, some of the guards went into the city and reported to the chief priests everything that had happened. When the chief priests had met with the elders and devised a plan, they gave the soldiers a large sum of money, telling them, "You are to say, 'His disciples came during the night and stole him away while we were asleep.' If this report gets to the governor, we will satisfy him and keep you out of trouble." So the soldiers took the money and did as they were instructed. And this story has been widely circulated among the Jews to this very day. Matthew 28:11-15
Some Bible commentators suggest that the Roman guards went to the priests to save themselves since they would be punished severely for letting the tomb be opened. If that is so, why would the priests have to bribe the guards? It would seem reasonable that if the guards were running for their lives, they would be willing to pay the priests to save themselves. It seems likely that the priests were at a disadvantage because they had to bribe the guards. Further, the priests had to offer the guards a large sum of money to lie, probably because the guards would be risking their lives by saying they fell asleep on duty.
The priests were not fools. If the guards returned to their officers and demonstrated their story with physical evidence and eyewitness testimonies, the Roman officers might believe them. The likely result would be that people would believe that Jesus truly was the Messiah and the authority of the priests would greatly diminish.
Jesus Appears to the Eleven Disciples
After His resurrection, Jesus appeared several times to the eleven disciples. What is striking about these appearances is that although He travels through solid objects and appears and disappears at will seemingly independent of geographic location and physical objects, He states that He is flesh. He invites the disciples to touch Him and prove to themselves that it is He in the flesh.
"Then the eleven disciples went to Galilee, to the mountain where Jesus had told them to go. When they saw him, they worshipped him; but some doubted. Then Jesus came to them and said, "All authority in heaven and on earth has been given to me" -- Matthew 28:16-19
"Later Jesus appeared to the Eleven as they were eating;..." -- Mark 16:14
When he was at the table with them, he took bread, gave thanks, broke it and began to give it to them. Then their eyes were opened and they recognized him, and he disappeared from their sight. -- Luke 24:30-31
"They got up and returned at once to Jerusalem. There they found the Eleven and those with them, assembled together and saying, "It is true! The Lord has risen and has appeared to Simon.... While they were still talking about this, Jesus himself stood among them and said to them, "Peace be with you." They were startled and frightened, thinking they saw a ghost. He said to them, "Why are you troubled, and why do doubts rise in your minds? Look at my hands and my feet. It is I myself! Touch me and see; a ghost does not have flesh and bones, as you see I have." When he had said this, he showed them his hands and feet." -- Luke 24:33-40
"A week later his disciples were in the house again, and Thomas was with them. Though the doors were locked, Jesus came and stood among them and said, "Peace be with you!" Then he said to Thomas, "Put your finger here; see my hands. Reach out your hand and put it into my side. Stop doubting and believe." Thomas said to him, "My Lord and my God!" Then Jesus told him, "Because you have seen me, you have believed; blessed are those who have not seen and yet have believed." -- John 20:26-29
Jesus Appears to The Women
"When Jesus rose early on the first day of the week, he appeared first to Mary Magdalene, out of whom he had driven seven demons." -- Mark 16:9
"So the women hurried away from the tomb, afraid yet filled with joy, and ran to tell his disciples. Suddenly Jesus met them. "Greetings," he said. They came to him, clasped his feet and worshipped him." -- Matthew 28:8-9
Jesus Appears to Hundreds of People
It is logical to assume that if Jesus' disciples were fabricating a false resurrection story, they would attest to seeing Jesus, however, hundreds of people witnessed Jesus in the flesh following His resurrection.
"After that, he [Jesus] appeared to more than five hundred of the brothers at the same time, most of whom are still living, though some have fallen asleep." -- 1 Corinthians 15:6
Jesus Resurrected Others
Jesus resurrected many others. Following Jesus' resurrection these resurrected people went into Jerusalem and appeared to many people. Their resurrections also testify of Jesus' resurrection and deity.
It is no accident that Jesus rose on the feast of First Fruits because He fulfilled the Spring Feasts of Israel with His life.5 On the feast of First Fruits, it was the obligation of every Jew to offer the first of their harvest to the Lord. Jesus fulfilled this obligation by resurrecting people as His offering.
The tombs broke open and the bodies of many people who had died were raised to life. They came out of the tombs, and after Jesus' resurrection they went into the holy city and appeared to many people -- Matthew 27:52-53